Teens
A list of upcoming events and other helpful websites.
2018 Teen Summer Reading Program

June 18 - August 1 Ages 12-18
The Summer Reading Program will start June 18. Come to the library for activities, programs, and prizes. You can win an entry for  the Grand Prize drawing for every 4 hours you read. Plus, you have an opportunity to win prizes by attending our programs!
Beatles Forever (Monday, June 18, 6:30 p.m.) Our Summer Reading Club kicks off on June 18. Join us for local author M.L.Liebler and his Beatles Forever program. Registration required, all ages
Lip Sync Battle (Monday, July 9, 6:00 p.m.) Do you have what it takes to be a lip sync champion? Contestants may bring their own family-friendly music. Feel free to bring props and dress up in costume. You can also be an audience member judge. Prizes will be given to the winner!
Teen Movie (Tuesday, June 26, 2:00 p.m.) Join us as we watch a feature film. We've got snacks to share! Registration required.
Video Game Tournament (Monday, July 23, 6:00 p.m.) The video game tournament is back! Who will be the reigning champion? Sign up to see if it will be you -- space is limited to 20 participants. Registration required.
Washi Tape Decor (Monday, July 30, 2:00 p.m.) Create your own decor with Washi Tape! You can bring in your own items to decorate, and we will have a limited number of items as well. Space is limited to 20 participants. Registration is required.
Ice Cream Social (By Invitation Only) Summer Reading participants who read at least 4 hours (and their families) will be invited  to make their own ice cream sundaes and get special balloon creations. We'll also announce Grand Prize winners. Invitations will be handed out with your second prize.   Wednesday, August 1, 6 p.m. Please, RSVP by Friday, July 27.
Websites and links of Interest:
Click on the link above to learn about new books and all bookish things YA 
Crash Course
A series of YouTube videos that can inform you on a wide variety of topics. Hosted by Hank and John Green.
Driver's Education Help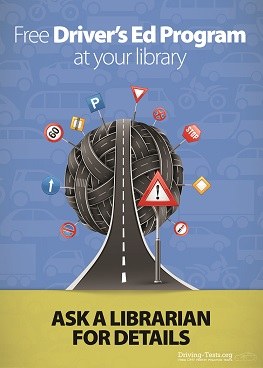 We now offer a website for you to study for your driver's license. 
Drivingtest.org
offers services such as practice exams, handbooks, and frequently asked questions pertaining to obtaining your driver's license.