Teens
A list of upcoming events and other helpful websites.

2017 Teen Summer Reading Program
The Summer Reading Program runs from June 5 to July 21 for teens aged 12-18. Come to the library for activities, prizes, and programs. You'll get an entry to win the grand prize for every four hours of reading, plus you get a chance to win weekly prizes by attending events.
Build a Better Body (June 23rd 2pm - 4pm) - Learn about healthy snacks and fitness.
Teen Movie Friday (June 30 @ 2pm) - Join us for snacks and a movie.
Video Game Tournament (July 14th 2pm - 4pm) - The video game tournament is back! Who will be come the reigning champion?
Build a Better Craft (July 21st 2pm - 4pm) - Learn how to make crafts out of your old t-shirts. Registration is limited to 20 participants.
Summer Reading Finale: Ice Cream Social (July 26th 6pm - 8pm) - If you signed up and read for at least four hours, you'll get an invitation to the ice cream social. The grand prize winner will be announced here.
Crash Course
A series of YouTube videos that can inform you on a wide variety of topics. Hosted by Hank and John Green.
Driver's Education Help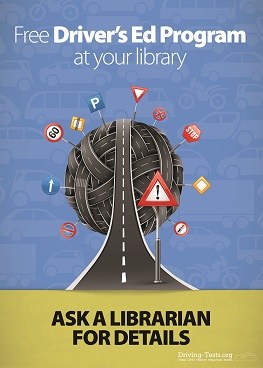 We now offer a website for you to study for your drivers license. 
Drivingtest.org
offers services such as practice exams, handbooks, and frequently asked questions pertaining to obtaining your drivers license.