Teens
A list of upcoming events and other helpful websites.
 
Anime Club
 Do you love Anime? Just curious? Join us as we watch, talk, and sometimes craft about anime. 
Saturdays 3 - 4:45 pm on January 6, February 17, March 17, and April 21
Weeknights from 6-8 pm on January 15 & 22, February 5 & 26, April 11 & 25
Magic the Gathering Club 
Are you a magic expert? Great! Never played but are interested? No Problem! Players ages 10 and up are welcome to come play or learn to play. Bring your own deck or use one of ours. 
1-3 pm January 5, 27, February 17, March 17, and April 21

Pick the Flick Movie Night
What are we watching? It's up to you. Be here on Monday, January 29 or Monday, March 12, at 6 pm to watch a movie and eat snacks with friends.
Websites and links of Interest:
Click on the link above to learn about new books and all bookish things YA 
Crash Course
A series of YouTube videos that can inform you on a wide variety of topics. Hosted by Hank and John Green.
Driver's Education Help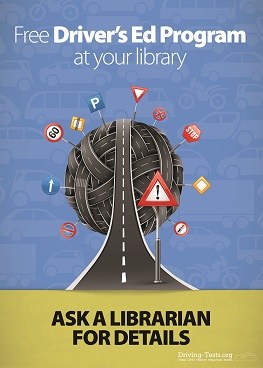 We now offer a website for you to study for your driver's license. 
Drivingtest.org
offers services such as practice exams, handbooks, and frequently asked questions pertaining to obtaining your driver's license.