Summer 2017 Programs for Children
List of upcoming events for children and families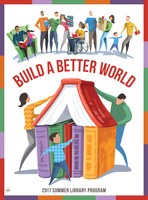 Thank you to all of the kids and teens who participated in Summer Reading this year. One hundred twenty-six of you read and listened to books for 668 hours!  We will have a little break in programming, and will resume when the school year starts.
ONGOING ACTIVITIES
McDonald's Bookmarks
Get your bookmark stamped every time you check out books.  When you have 5 stamps, your bookmark is full and you can bring it to McDonald's for a FREE Happy Meal.  Repeat as many times as you want.  The bookmarks may be redeemed at 17800 8 Mile Rd. in Harper Woods and 22333 E. 9 Mile Rd. in St. Clair Shores. Thanks to Southeast Michigan McDonald's for generously sponsoring this program.
1000 Books Before Kindergarten
It's Easy to Participate!
Step 1: Ask a librarian for the FREE starting kit.
Step 2: Read a book with your child and cross off a circle on your Reading Record.
Step 3 and beyond: Repeat!
When 100 books are read, show your Reading Record to a librarian for a prize. Move your name marker up the wall of progress. Get a new Reading Record and keep going!  One thousand books sounds like a lot, but it's easier than you think. Read 3 books a day for a year and you've already read over 1000 books, or 10 books a week for 2 years, and you've done it too!  More questions?  Click here.
FALL ACTIVITIES
Tot Time  Walkers up to 4 yrs. old, and their caregivers, are invited to share stories, songs, and fingerplays, followed by unstructured playtime.
Tuesdays: Sept. 12 - Nov. 28
11:15 a.m. - 12:30 p.m.
Paws for Reading  Children of all ages can read to certified therapy dog, Wally.   Drop in after school.
2nd and 4th Tuesdays: Sept. 12 & 26, Oct. 10 & 24, Nov. 14 & 28, Dec. 12
4:45-5:45 p.m.
After School Fun Club— Grades K-5
Kids in Grades K-5 are invited to discover new things, have fun, make friends, and do activities.
Tuesdays: Sept. 12 - Nov. 21 (No meeting on Oct 31)
4:15– 4:45 p.m.

Saturday Crafts  One Saturday each month, children ages 6 - 12 can drop in to do a fun craft.  No registration necessary.
Saturdays: Sept. 16, Oct. 7, Nov. 18
2:00-3:00 p.m.
Robot Fun   Join in the fun as we play with robots, learn to program them and make them move.  Presented by Mrs. Foster, former teacher at Beacon Elementary School.  Please register online, or by calling the library.
Tuesday, September 19, 6:00 - 7:30 p.m.
Halloween @ the Library  Come to the library for some Halloween fun. Costumes welcome! You can "trick-or-treat" at different stations and participate in ongoing crafts, stories, games and activities.
Saturday, October 28, 2:00-3:00 p.m.
Family Movie Night  Bring your friends and family to watch Captain Underpants, when two friends hypnotize their evil principal to be a superhero. We'll provide a light snack. (Rated PG, 89 minutes). Please register online, or by calling the library.
Tuesday,  November 14, 6:00 p.m.
An Evening with Santa Children of all ages can spend an evening with Santa as he tells holiday stories, sings carols and speaks with each child.  We'll also do a craft. Bring your cameras! Please register online, or by calling the library.
Tuesday, December 12, 6:30 - 7:30 p.m.